QQ MESSENGER:
TEL:0579-86157377
商户介绍
/ABOUTUS
东莞市上大针车有限公司成立于2014年,公司座落于美丽的东莞市塘厦镇,在浙江东阳
虎鹿缝配城有自己销售点。
公司是一家集研发、生产、销售、服务为一体的专业针车配件制造商。 产品主要有各规
格卷边压脚、平车压脚、DY车压脚、夹布器、胶圈、螺丝及其他针车配件。 产品广泛应用于
各缝纫制造业。
公司有自主品牌,远销国外及海外多国。其中压脚年销量上百万件。欢迎新老客户垂询,
也可根据具体要求定制加工。
公司现正飞速发展,欢迎各伙伴洽谈,合作共赢!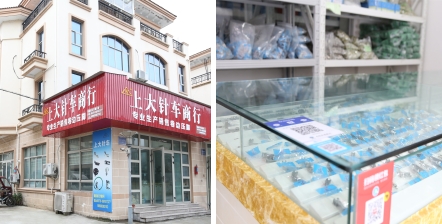 Dongguang Shang Da sewing parts company(LTD) is estabished in 2014. Company
locates on Tangxi Town, Dongguang City, Guangdong province, China. We have the
retail store at Hulu Town.
We are a multi-purpose company. We have technical support, prod-uctivity, sale supply
and after service, a professional in sewing parts service and supply. Our major products
are binder, presser feet ( Teflon type, plastic type, DY type), clamp and others.
We have our own brand and we also help customer to produce the blank type. Our production capacity is more than a million unit of presser feet of blinder. We are happy to support our customers' own design needs.
Our business is booming up, we are open-minded and willing to havea chance to be your partner.